Need To Install A New Air Conditioner? Here's What To Know About Ductless Air Conditioning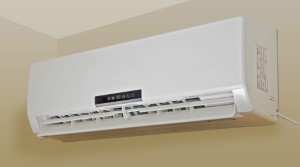 Running a central air conditioner can cost more than you think, so many people question whether they should choose something else like a window unit or ductless air conditioning.
Ductless air conditioning can save energy costs and keep you just as comfortable as a central air conditioner. Plus, you have more options to keep certain zones in the house cooler than others.
A ductless air conditioner is sometimes referred to as a mini-split or a split ductless air conditioner. They are called "split" because they have indoor and outdoor components. With a central air conditioner, the indoor and outdoor units are huge as compared to a split ductless system. And of course, there is no traditional ductwork with a mini-split.
Ductless Heating & Cooling
Ductless air conditioners are available with heat pumps to both heat and cool your home. Your HVAC contractors can install the additional equipment for you. This is a great option for a room that's been added on to your home, the workshop, garage, or remodeled basement or attic.
Supplemental Cooling
If you have a large home, you may need to supplement the central air conditioning system with ductless air conditioning. Perhaps it's always hot in the kitchen or a room next to the garage?
Installing a single zone ductless air conditioner for just that room can keep it comfortable. The unit will also help to decrease humidity in the room.
Ductless Air Conditioning Brands
There are many brands of ductless air conditioners to choose from. A few brands to note are Samsung, Amana, and Friedrich.
Questions About Ductless Air Conditioning in Los Angeles?
This general guide will hopefully get you started on figuring out whether or not ductless air conditioning is right for you. If you still have questions and are located in our service areas, please don't hesitate to call. Our Los Angeles air conditioning company is here for you!
If you are looking for a professional Los Angeles HVAC and Refrigeration Contractor, please call 323-252-0293 or complete our